Last Updated on April 10, 2023 by Kravelv
Let's get one thing straight: Setting up a stunning rooftop does not have to cost you an arm and a leg.
We're here to prove it to you with some low-cost but high-impact rooftop decor ideas that are sure to leave visitors gawking.
Without any further ado, let's go.
Top 10 low-cost rooftop decor ideas to transform your space
1. Line the edges of the rooftop
If your rooftop has fabulous views on all 4 sides, you're good to go. But often the realities of urban rooftops mean there's at least one side that faces a dreary building wall. Or worse, your neighbor's window. So, create a sense of privacy and block out the boring views with luscious green plants.
Opt for plants like elevated faux boxwood hedges, or leafy artificial bamboo palms that will create a neutral green backdrop for your rooftop space.
This way, your "natural privacy screen" will stay lush and thick throughout the year with hardly any maintenance.
2. Create shaded lounge spots
Make the rooftop a more comfortable space to lounge in throughout the year, by creating some shaded spaces for everyone to lounge in.
(P.S.: This will also help you reduce heat gain on the lower floors.)
You don't need to build a full-blown wooden rooftop gazebo for this though. If your budget doesn't accommodate that, then simply opt for one of the below alternatives:
Go basic with a large umbrella over the chairs
Add a Mediterranean touch with light-colored fabric canopies, hung over a basic four-poster wooden frame.
Or create a green shade under a thick layer of creepers wound around a basic metal frame.
3. Low-cost bamboo or wicker furniture for rooftop decor
If you're on a budget, but still want a highly comfortable, good-looking seating arrangement, bamboo should be your go-to.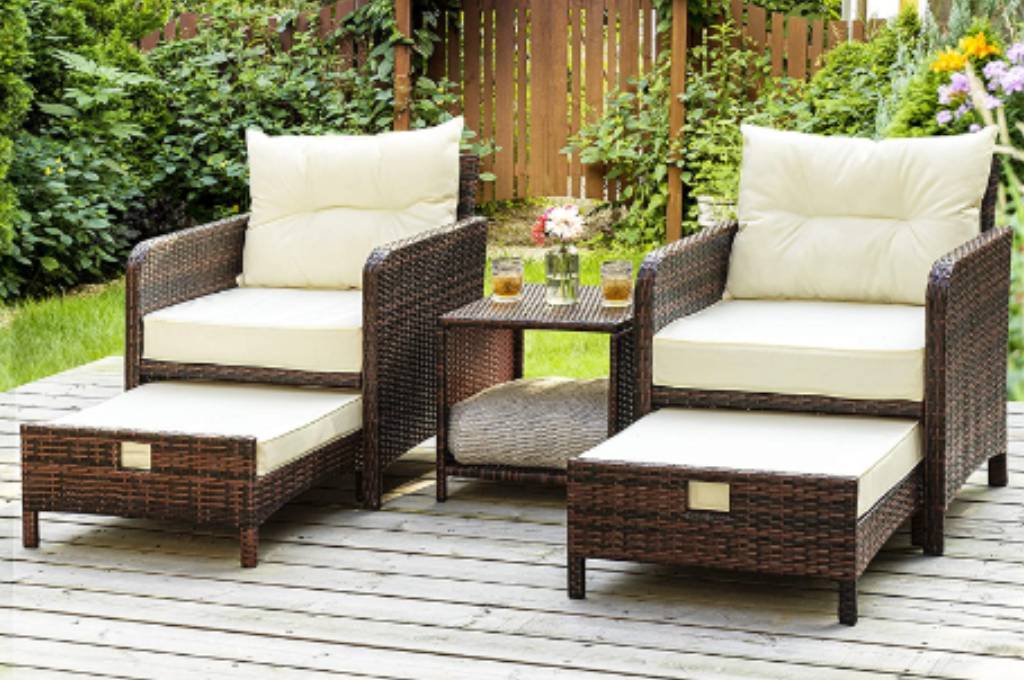 Natural materials like bamboo, cane, and wicker furniture are not only highly affordable, but they are also hard and low-maintenance materials. They age well under the elements and even fade and have a cozy, comforting aesthetic.
If you're also looking to create a more informal ambiance, you could get quirky with some alternate seating options. Think fun hammocks, sofa swings, lounge cushions on the floor, and more, for an informal ambiance.
4. Soften the space with the right accessories
In spite of the limitless sky above, rooftop spaces, in general, are quite sparse-looking with hard lines and flat surfaces. So be sure to add some personality and make it seem more welcoming with homely accessories.
You could start with basic fabrics like outdoor carpets, hardy throws over the couches, thick and comfy washable cushions, etc. These will also add pops of color to the otherwise monotone space and neutral furniture. Next layer on some fun accessories like lanterns, magazines, a wine cabinet, etc.
The flooring you choose for your rooftop makes a significant impact on the aesthetic of the space. And while there are a ton of wonderful rooftop flooring options out there, they aren't always affordable.
The best bet, for low-cost rooftop flooring, is concrete. Think seamless poured concrete flooring or the more common concrete/cement tiles laid in fun patterns.
No matter which one you choose, you will have a hardy, low-maintenance floor that will stand by you through the years. They need just the occasional sweep or hose down to continue looking stunning, no matter the weather conditions.
6. Plants, plants, and more plants
Plants are both the cheapest and most important aspects of your rooftop decor.
Pro tip: If you are terrified of having to maintain these plants throughout the year, then simply opt for artificial silk plants. They need virtually zero maintenance and will look fresh throughout the year, no matter the weather.
Create layers of plants, to add depth to your rooftop garden.
Start with large plants as the backdrop (or in the middle for a circular arrangement). If you have a large enough rooftop, this could be massive trees like black olive trees, lemon trees, or smaller ones like orange or oriental bamboo trees.
Next follow up with mid to small-sized plants like succulents, English ivy, Chinese evergreens, or flowering plants like bougainvillea, azaleas, etc.
There really is no end to the thousands of plants you have to choose from.
7. Demarcate your green zones
Having a rooftop garden is one thing. But being able to make it look professionally landscaped is another. A simple way to give your low-budget rooftop decor a glam look is by creating clear landscaped sections. You can do this by:
Lifting your planters up by 1′-3′ in height. (This works especially well with small plants since the raised island also brings them into the direct field of sight.)
Creating pockets of green that are surrounded by a wooden, metal, or concrete fence. (this way you can also avoid the hassle of hunting for designer planter boxes for each of the plants and trees.
Low cost "designer rooftop" hack: Use gravel as a transitionary flooring element between the end of the terrace flooring, and the start of the green zone.
8. Light up your space
Even a simple low-budget rooftop decor can look glamorous with the right lighting. So use layers of soft lighting to light up the right places. To get started, simply follow the below steps:
Ensure general ambient lighting with wall-mounted and ceiling-mounted lights (under the shaded canopy)
Light up the landscape with floor-mounted lights
Highlight the edges with accent lights and cove lights
Adding ambiance to your rooftop space in a way that is both quick and uncomplicated may be accomplished with the help of string lights. You may suspend them from the railings of a pergola, the walls, or even a pergola itself. They are available in a variety of hues and designs, so select the one that works best with the aesthetic of your space.
Also Read:
9. Create an activity zone
Your low-cost rooftop decor does not have to be devoid of fun. Add some excitement to the rooftop, by making space for some enjoyable activities. We've listed some examples to get your creative brain spinning:
A gaming area with pool tables, dart boards, etc.
A private open-air theatre, using a simple projector on a blank wall
An open-air bar counter
A Zen meditation corner
10. Add a touch of biophilia
Boost the biophilia and natural connection of the rooftop for an added layer of luxurious relaxation. They don't have to be complicated or expensive options. Think low-budget rooftop decor options like birdbaths, water urns, wind chimes, etc. Or even go to the next level of biophilic design, by having soothing nature sounds playing in the background.
11. Water Feature
Adding a water feature to your rooftop space, such as a small fountain or pond, may bring a sense of serenity to the area. You have the option of either buying one or making your own out of recyclable materials.
12. Hammock
On your rooftop, a hammock is an ideal seat from which to take in the scenery as you unwind and rest. You may either buy a hammock that stands on its own or have one installed between two walls.
13. Outdoor Pillows
Patio cushions are a fantastic way to give your rooftop sitting a splash of color and an extra layer of comfort. You may create a colorful and eclectic style for yourself by mixing and matching a variety of various patterns and colors.
14. Outdoor Seating
Seating for the outdoors is an essential component of any rooftop area. In order to make a comfortable and welcoming seating space, you may make use of floor cushions, benches, or even chairs. Use a vibrant outdoor rug to serve as a unifying element in the area.
15. Fire Pit
A fire pit is an ideal accessory for evenings when the temperature is on the colder side, and it may also serve as the main point of the decor on your rooftop. You may either go out and buy a portable one of a smaller size or construct your own out of bricks or stones.
Rooftop Decor Ideas FAQs
How can I make my rooftop space cozier and more inviting?
You may make your rooftop environment cozier and more appealing in a number of different ways, such as by installing seats, making use of outdoor rugs and cushions, and including illumination in the form of lanterns or string lights.
What kinds of plants are suitable for rooftop gardens?
The amount of sunshine that your area receives as well as the type of soil that you have are two factors that should be taken into consideration while selecting plants for your rooftop garden. Succulents, herbs, and tiny trees such as fruit trees or dwarf conifers are all excellent choices for rooftop gardens.
How can I create a DIY fire pit on my rooftop?
A brick or stone pit, either circular or square in shape, can be constructed on your rooftop using the do-it-yourself method of building a fire pit. While you are using it, make sure that it is placed on a surface that cannot catch fire, such as concrete, and that you constantly follow the safety precautions.
How can I make my rooftop space more private?
You may make your rooftop space more private by erecting screens made of bamboo or lattice, installing curtains or shades, or planting tall grasses or bushes to form a natural barrier. Other options include using curtains or shades.
Final Words
In conclusion, embellishing your rooftop area does not need to incur a significant financial burden. You can create a warm and appealing outdoor refuge that is also easy on the wallet by decorating it with ideas like these, which you can then take use of during the whole season.
You might also like: